New Zealand has become a prolific source of successful movies over the past 40 years with a reputation as a country that can provide the backdrop for any type of movie and having a skilled workforce to make them. As a result, most people will have heard of at least five famous Kiwi movies and the famous Kiwi actors they have created.
Top choices
Famous Kiwi movies – milestone movies made in New Zealand – include:
Now the most famous Kiwi movies of all time. The trilogy consists of three live action fantasy epic films: The Fellowship of the Ring (2001), The Two Towers (2002) and The Return of the King (2003). Based on the three-volume book The Lord of the Rings by J.R.R.Tolkien, New Zealand director Sir Peter Jackson worked with a $285 million budget over eight years to make the trilogy. The films won 17 Academy Awards and all three are in the top 10 highest-earning movies of all time.
Sir Peter Jackson followed up his LOTR trilogy with three movies based on the 1937 novel The Hobbit by J. R. R Tolkien. The films are subtitled An Unexpected Journey (2012), The Desolation of Smaug (2013), and There and Back Again (2014).
A famous Kiwi movie set in the New Zealand of the early settlers. Directed by Jane Campion in 1993, The Piano turned New Zealand's Anna Pacquin into a child star with her winning an Oscar for her role as the daughter of a mute female pianist played by Holly Hunter. Pacquin, aged 11, became the second youngest winner of an Academy Award.
This is the ultimate Kiwi roadchase movie. Filmed in 1981, this famous Kiwi movie follows a trio of criminals as they race in a yellow Mini from Kaitaia to Invercargill, eluding police at every turn. Directed by Geoff Murphy, the movie is proof that Kiwis can do a lot with very little – it was made with only 24 cast and crew. A remake of this classic was set to release in 2017.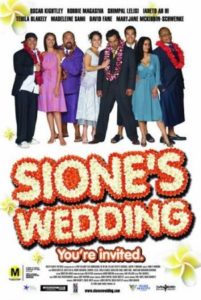 Made in 2006, this story of four Samoan boys trying to attend a mate's wedding in Auckland became a huge commercial success, grossing more than $3 million, despite being the target of an international DVD pirating scam. It was directed by Chris Graham and stars members of the comedy team Naked Samoans.
Director Niki Caro's interpretation of Witi Ihimaera's novel earned critical acclaim and an Academy Award Best Actress nomination for its star Keisha Castle-Hughes in 2002. At 13, she was the youngest actress ever nominated for that award.
Anthony Hopkins starred in this story of Invercargill motorcylist Burt Munro who overcame all sorts of challenges in the 1950s and 1960s to set the world landspeed record aboard a highly modified Indian Scout motorcycle. Made by director Roger Donaldson in 2005, it set New Zealand box office records, earning $7 million domestically and $11 million internationally.
Made in 1994 by director Peter Jackson, the movie is based on the 1954 Parker-Hulme murder committed by two teenage girls in Christchurch. The film starred an emerging English actress Kate Winslett (Titanic, The Reader) and Kiwi Melanie Lynskey, now best-known for her role as Rose on television's Two And A Half Men.
This 1994 film, directed by Lee Tamahori, tells the story of domestic violence in the Heke family. It launched the big screen career of Temuera Morrison. The film was based on the New Zealand novel of the same name written by Alan Duff.
Made on a small budget, this movie is regarded by many as the film that revitalised the New Zealand movie industry as it was the first in 15 years to reach the cinema. It was directed by Roger Donaldson and provided a debut for actor Sam Neill (Jurassic Park).
---